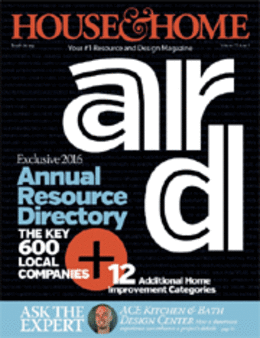 Your #1 Resource and Design Magazine
House & Home has become the medium that defines the region's home shelter trends. Each issue is dedicated to upscale home design and renovation, where affluent homeowners find a wide range of resources for building and remodeling projects from concept and planning through completion. We fill 100 percent of our pages with the latest in construction trends, beautiful interior designs, great ideas for home improvement and inspiring gardening articles. Our affluent homeowners tell us they refer back to our magazine throughout the year to plan their home projects. House & Home magazine publishes Six regional magazines covering the Philly Suburbs and most of NJ 10 times a year +2 special editions.

Each issue we focus 100 percent of our editorial on home design, remodeling and landscaping including:
• Kitchen & bath trends
• Hot trends in the residential building industry
• Builders and homes of distinction
• Award-winning home renovations
• Inspiring interior design
• Landscaping and outdoor living ideas

* 53% of readers keep House & Home one month or more before discarding it.
*(According to the CVC Independent Audit).
Click here to see the latest issue of House & Home.

If you would like to schedule a consultation with one of our sales executives, please call 888-202-5501 or email info@housemagazine.com.