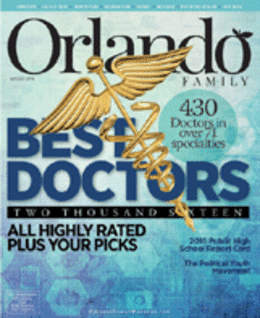 Orlando Family
Orlando Family Magazine is a free, trusted resource designed to inform, serve and enrich local families and parents throughout the greater Orlando area. All across the region we focus on the issues that mean the most to our readership with editorial that always has an Orlando area flavor:
Topical and timely articles on health, lifestyle, sports, celebrity, family and fashion are covered.

Investigative articles on compelling topics that concern our readership

We round out each magazine to include tantalizing dining reviews each month.

Combine that with great layout and amazing photography, and you've got our recipe for editorial success.

Resource guides that provide useful information to parents including Summer Camps, Birthday Parties, After School Activities, Schools and more.
Orlando Family Magazine is mailed directly to the homes of targeted, affluent families throughout the Orlando area with a minimum annual household income of $150,000, as well as placed in strategic locations around town where parents tend to gather, including waiting rooms of physician offices, attorneys, and dentists. Additional copies are available for pick-up at Central Florida Publix Supermarkets, Whole Foods, Fresh Markets, Orange County Library branches, select YMCA's, and other high traffic family destinations.
Click here to view the latest issue of Orlando Family Magazine.
If you would like to schedule a consultation with one of our sales executives, please call (407) 648-7002 ext. 400 or email Advertising@OrlandoFamilyMagazine.com.