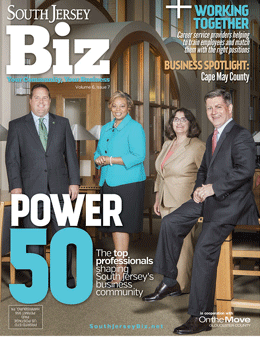 We cover the South Jersey business community like no one else!
The monthly magazine publishes timely, entertaining and informative stories dedicated to businesses and industries in Burlington, Camden and Gloucester counties, offering unprecedented insights into Philadelphia's affluent New Jersey suburbs. South Jersey Biz is mailed directly to area business owners, CEOs and leaders that shape the local business community. These decision makers look to this monthly resource for news, guidance and analysis to improve not only their bottom lines but also their quality of life. Our readers not only have the influence to shape the local business environment but are the decision makers influencing their respective company buying decisions. With a monthly readership of approximately 40,000*, our unique distribution & readership is comprised of the following:
C-level executives and upper level managers of virtually every major company in Burlington, Camden & Gloucester Counties
Small and Medium-sized business owners
Every member of the regional chambers of commerce
Officials of city and county governments
Business networking and trade show events
Controlled distribution to strategically selected locations such as hospitals & colleges South Jersey Biz brings the national and regional business topics to a "new level"… local news, local sources and local feel. All content is original with in-depth feature stories, opinion pieces, profiles and a wealth of timely and relevant departments that our readers rely on to stay up to date on the local business community.
Click here to see the latest issue of South Jersey Biz

If you would like to schedule a consultation with one of our sales executives, please call 856-797-9910 ext. 247 or Email Us.