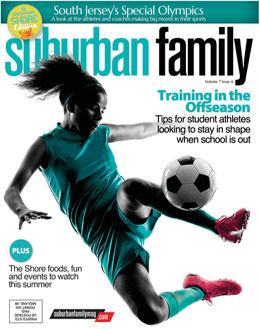 Suburban Family
Suburban Family's editorial content features local issues on topical subjects that South Jersey parents want and need to know. The magazine also profiles the incredible accomplishments of local star athletes, students and citizens. Suburban Family is the only regional glossy magazine exclusively devoted to helping parents and families improve their quality of life and making the most of the community's resources. Suburban Family offers families insightful and compelling editorial expertise on local topics as well as national issues with local relevance.

Our readers have come to expect editorial content relating to their family, covering such topics as:
Health & Wellness
Distinguished Residents, Students & Athletes
Home Improvement & Home Design
Family Values
Education
Family Events
South Jersey Role Models
With a growing readership and targeted distribution through direct mail and controlled distribution throughout Burlington, Camden and Gloucester counties, our advertisers have come to rely on Suburban Family to deliver results from the upscale family market in South Jersey.
Click here to see the latest issue of Suburban Family

If you would like to schedule a consultation with one of our sales executives, please call 856-797-9910 ext. 115 or email Karen.