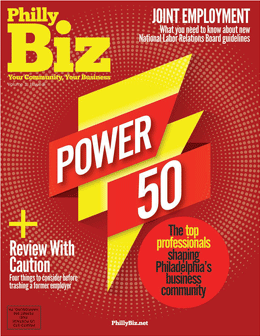 Philly Biz
Philly Biz is the city's premier business-to-business glossy publication, providing hyper-local content in an engaging format – with far more than just facts and figures. The monthly magazine publishes timely, entertaining and informative stories dedicated to businesses and industries in Philadelphia, offering unprecedented insights into the area landscape.
Whether documenting innovations in health care, focusing on finance and the economy, or exploring how companies are "going green," our editorial vision is in touch with what matters most to business leaders today. Partnerships and initiatives with local tourism boards, chambers of commerce and government agencies help us to bring Philadelphia this highly targeted and engaging business resource.
Philly Biz is mailed directly to area business owners, CEOs and leaders that shape the local business community. These decision makers look to this monthly resource for news, guidance and analysis to improve not only their bottom lines but also their quality of life.
Find us on Facebook.
Direct all advertising inquiries to:
(610) 272-3120
info@phillybiz.net
Visit us at PhillyBiz.net